OUR SERVICES
Lanai Outdoor Kitchens, Largo, FL
Outdoor Kitchens
Free Design Services
Let us help you design your dream outdoor kitchen. We have 12 years experience in the industry, working with high quality, top of the line cabinets and appliances.
There's no cost or obligation for us to prepare a design, and absolutely no sales pressure. We can create a 3-D rendering for you and give you a cost estimate for the project, so you can start budgeting for that outdoor room of your dreams.
Give us a call or visit our showroom and let our team put together an outdoor kitchen that is just right for you, your backyard, and everything you want your outdoor space to be.
CALL(727) 827-2662 for a FREE Quote!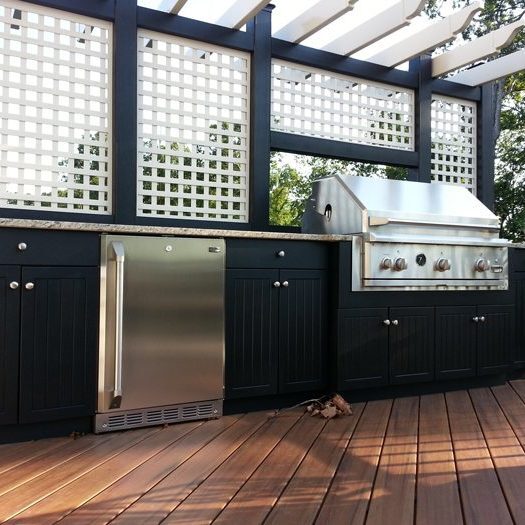 OUTDOOR KITCHENS
Our cabinets can be made in all shapes and sizes, allowing us to navigate around small spaces, support posts, windows, doors and more. Lanai Kitchens aren't just made, they're designed around you and your space.
When you build a Lanai Outdoor Kitchen, you are building an addition onto the outside of your home, which leaves you with a lot to consider. When planning your outdoor kitchen, consider the space you have to work with, how big is it, how open, and what kinds of obstacles are there. How will you use the space? Entertaining? Family gatherings? BBQ's? Socializing? Relaxing? What appliances do you want? A grill? A side burner? A fridge? A sink?
When you layout your kitchen consider how cabinets and appliances will be used, where seating areas are, etc. For instance, placing the grill at one end of the kitchen can give you more prep space and a trash pullout or refrigerator can get in the way if it's placed right next to the grill.
OUTDOOR KITCHEN INSTALLATIONS
We offer turn-key outdoor kitchens, which means we take care of the install for you.
Need other work performed in addition to your outdoor kitchen? We may be able to help you with that as well. We work with a number of different professionals that we can either work with or refer to you, depending on what you need done.