Cabinets: Outdoor Kitchen Products in Largo, FL
What makes a Lanai Outdoor Kitchen so special
A Lanai Outdoor Kitchen is not only strong and durable, but functional, beautiful and maintenance-free. With a Lanai Outdoor Kitchen you are able to take the inside kitchen outside and that's in part thanks to Werever Kitchen Cabinets.
Werever Kitchen Cabinets "These cabinets are built like tanks!"
Werever Kitchen Cabinets are the only polymer cabinet in the industry with 3/4″ material and interlocking joint construction. Werever outdoor cabinets come with a lifetime warranty against material or construction defects.
These cabinets can be placed virtually anywhere without risk of them being damaged. Because they're weatherized, they can tolerate direct sunlight without fading, they can withstand wet environments, and pool areas where salt and chlorine can be abundant.
Werever Kitchen Cabinets are also completely maintenance-free. If they get dirty they usually come clean with a light wash or even a pressure wash.
These outdoor kitchen cabinets can be made to fit virtually any space. With all of the types and sizes of cabinets that are available, the combinations and configurations are limitless.
Outdoor Kitchen Cabinet Styles
Types of Outdoor Cabinets
Base cabinets with full height doors
Base cabinets with a drawer
Drawer cabinets
Sink base cabinets
Trash cabinets
Grill cabinets
Pedestal cabinets
Blind base corner cabinets
Bi-level cabinets
Wall cabinets
Pantry cabinets
Pull-out cabinets
Lp tank cabinets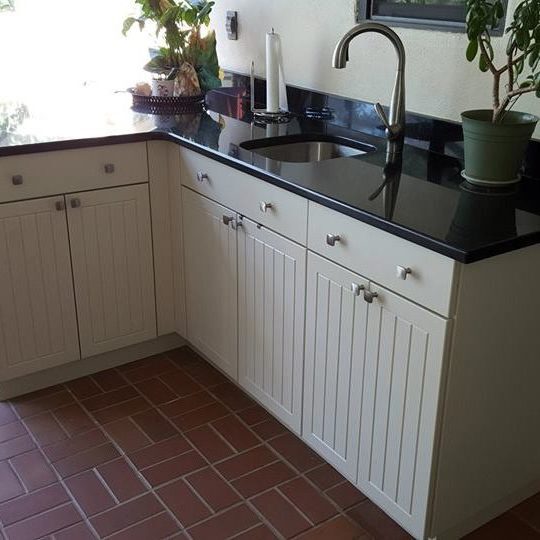 Cabinet Accessories
Toe kick
Crown molding
Light valance
Filler
Stemware holder
Wine rack / holder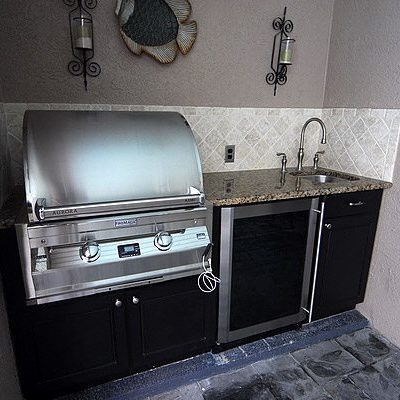 Why We Love Werever Kitchen Cabinets
Better Than Stainless Steel Cabinets
Most people like the look of stainless steel -- bright and shiny! But what they don't like is maintenance, or the effects associated with a lack of maintenance. Stainless steel comes in many different grades and gauges and they are not all created equal.
The best stainless steel for use in an outdoor kitchen is going to be 304 stainless, but it is expensive and it too will require maintenance to avoid the pits, corrosion and staining that occurs to stainless steel over a period of time. How quickly a stainless steel may begin rusting, pitting or corroding will depend on where the cabinets are located.
Better Than Wood Cabinets
Most people prefer the look of real wood over polymer, however, there are very few woods that can be used outdoors. Most woods rot in a very short period of time outside. The woods that are typically used in outdoor projects, such as teak, cypress or cedar, are usually very expensive to work with, adding significant cost to your project without having true weatherproof characteristics.
Better Than Other Polymer Cabinets
Outdoor polymer cabinets were first created by Werever Products, Inc., back in 2001. Since that time, many companies have come along making cabinets out of polymer. The difference between Werever and their competitors is the construction. Competitors will use a thinner material, 1/4″ vs. 3/4″, and cheaper fastening methods.
Werever cabinets are made without any supporting hardware that could rust or fail outdoors. They are constructed similar to Amish furniture, using an interlocking joint that creates a joint that runs the length of each side. There is no glue or welding, just precision and quality construction, making the best outdoor cabinet on the market.
SUN SAFE
The HDPE boards we use to build our cabinets have ultraviolet inhibitors that act like built-in sunscreen. The UV inhibitors will prevent the board from fading, or becoming chalky like a cheaper PVC board.  HDPE board significantly outperforms all the other materials regard to outdoor exposure resistance. It also won't heat up in the sun like stainless steel cabinets!
LIMITED LIFETIME MANUFACTURERS RESIDENTIAL WARRANTY
Werever Products, Inc. will repair or replace cabinetry which proves to be defective in material or workmanship under normal residential use for the lifetime of the original purchaser.
This warranty is not transferable and is expressly limited to the cabinet carcass, base, doors, drawers, shelves, and high density polyethylene (HDPE) drawer slides.
Items not specifically listed in this warranty are not covered by this warranty. No other warranty, express or implied, is applicable to this product. Separate components not manufactured by Werever Products such as grills, refrigerators, countertops, casters, stainless steel drawer slides, and accessories may be covered by a separate manufacturer's warranty, but are not covered by this Limited Lifetime Manufacturers Residential Warranty.
Werever Products shall not be liable for the loss of use of the product, inconvenience, loss or any other damages, direct or consequential, arising out of the use of or inability to use this product.
This warranty does not apply to cabinets that have been misused, modified, or improperly installed. This warranty does not apply to the natural aging of the finish. This warranty applies only to defects and does not apply to natural aging or wear and tear.
The above warranty is limited to the repair or replacement of the defective part at the discretion of Werever Products, Inc. and does not include labor, shipping, or service trip expenses necessary for removal, inspection, delivery, or replacement of defective parts. Parts replaced or repaired under this warranty are not guaranteed for color match. Defective cabinet parts are subject to a one time replacement or repair. Components and products not manufactured by Werever will carry the warranty of the original manufacturer and are subject to availability from our supplier.
This warranty does not apply to sliding-door outdoor tv cabinets, which are covered by a separate warranty. Piano-hinged tv cabinets are limited to a three (3) year warranty period.
Movable carts including the Big Green Egg cabinet line are limited to a three (3) year warranty period.
To obtain warranty coverage: Retain your bill of sale and copy of this warranty statement to prove original purchase and warranty terms in effect at the date of your sale. A copy of the sales receipt must be submitted at the time warranty service is requested. Defective parts must be returned to Werever before a warranty claim can be processed. Warranty requests must be accompanied by photographs of the cabinetry as installed to document the defect. Warranty requests will not be processed without proof of purchase and proper documentation.
---
Poliwood doors, Fillet tables, and sliding-door TV cabinets have been discontinued.  They are subject to the warranty that was in effect at the time of your purchase.
Cabinet Door Styles
We offer numerous door styles and are coming out with new ones all the time. Stop by our showroom to see our large selection including the newest door styles we offer
Cabinet Colors
TWELVE DESIGNER COLORS & FIVE WOODGRAIN OPTIONS
Werever outdoor cabinets are available in 12 solid colors or 5 woodgrain face colors to complement any decor.
All colors are the same price.
Woodgrain face is available as an upgrade.
The color is solid and goes all the way through the board.
The color can't be chipped or peeled off.
The material is UV protected against fading.
The color will not chalk like PVC does. This is HDPE!
(Included in price of cabinet)
Please Note: Woodgrain pattern and color varies, just like real wood. The above samples represent 6-inch by 6-inch samples of the actual HDPE material we use. You can click each color sample to get an idea of the grain variation and tightness of the pattern. The woodgrain texture is subtle, but adds some depth to the look of the cabinets. No two doors will look exactly alike or have the identical grain pattern.